The best Free VPNs for Netflix in 2023
These are the Free VPNs for Netflix that work to access content that is not available in your country, the only ones capable of bypassing geolocation blocks and the advanced anti-VPN system.
List of Free VPNs that work with Netflix:
Do Free VPNs unblock Netflix? The answer is: Yes, but very few. Of course, there is no guarantee, they are slow and limited, but with patience they work.
TuxlerVPN is the best Free VPN for Netflix, because it has 300 thousand residential IP addresses from 92 countries. The fact that they are residential IPs does not raise Netflix's suspicions.
It is unlimited and the IPs are renewed every month, so it will always work. Its biggest disadvantage is that it is a VPN to watch Netflix only on PC and Mac, it does not have applications for other platforms, and well, since it is free it is not a fast VPN.
⚠️ Notice: TuxlerVPN is undoubtedly the best free VPN for Netflix on PC and Mac, but I recommend reading their Privacy Policy to understand why this type of service is completely free.
Windscribe is not free, but offers a free version limited to 15 GB per month per account, for connections to: USA, Canada, France, Germany, the Netherlands, Norway, Romania, Switzerland, UK, Turkey, and Hong Kong.
It is a VPN that we can use to watch Netflix from other countries, on any platform or device. It works very well for the United States and Turkey, the 15GB will be enough to play about 3 or 4 movies or a few episodes of a series.
✅ VPN HUB
It is another alternative, just like the previous one, it is a fast Premium VPN, and it can be used for free. The good news is that it is unlimited, and the bad news is that it can only be used for free from mobile devices: Android and iPhone.
It has only 1 connection to the USA, with which you can access Netflix from the United States, the location changes constantly whenever you access the APP, which prevents many users from using the same IP.
✅ OvpnSpider
It is a free VPN for Netflix on mobile devices, it is unlimited and it is not detected by Netflix, the disadvantage is that being completely free it has many users, which affects its speeds, and slows down the connection.
But it is capable of unlocking the catalogs of several countries, it works without problems for Japan and USA. And it can be easily used on iPhone and Android, in the latter, an additional app is necessary, here I explain it:
🎁 VPN for Netflix (Free trial for 7 days)
There are still a few VPNs out there that allow you to try them before you commit, without paying anything. We are talking about ZenMate that offers a 7-day Free Trial and Cyberghost VPN whose free trial is only 24 hours, well, that's 8 already, right?
Most VPNs offer a free trial, but these are the only Premium VPNs that you can get without putting in a card or payment method first, and they actually unblock Netflix.
👑 Best VPN for Netflix 2023
What is the best VPN for Netflix 2023? It's: SurfShark! Because it unlocks 29 different Netflix libraries with just one click.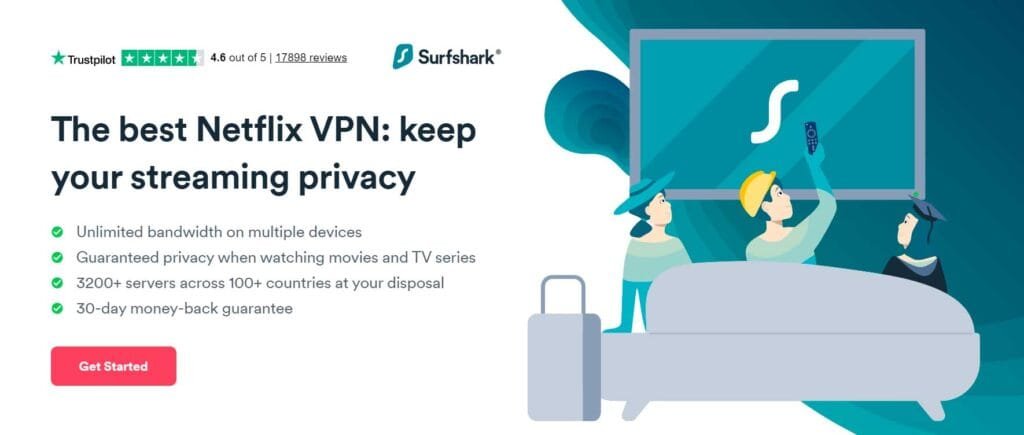 Although NordVPN is more popular, Surfshark is currently the best VPN for Netflix and it has 3 advantages:
It is cheaper than NordVPN, while being just as fast and secure.
It is currently the VPN that unblocks the most Netflix libraries (29 compared to 14 for NordVPN).
It has no device limit, so you can share your account with family and friends. (NordVPN has a limit of 6 devices that can be used at the same time.)
On the other hand, NordVPN has a downside, you can no longer access Netflix library in India due to a change in local laws which forced it to shut down its Indian servers, Surfshark owns virtual servers in India which is another important advantage.
When it comes to speed, Surfshark is on par with NordVPN, and sometimes even a bit faster depending on the location of the server you connect to, so you definitely won't experience buffering or slow connections.
And not only it is the best VPN for Netflix, but it also unblocks other streaming platforms like: Disney Plus, BBC iPlayer, HBO Max, Amazon Prime Video, Hulu, etc.
Surfshark is compatible with all devices, has applications for Amazon Firetv stick, Android TV and also has the SmartDNS function, to ensure that you can stream even from video game consoles or Smart TVs that do not support applications.
NordVPN has 5,400+ optimized servers, in 60 countries, for easy access to Netflix's top geo-blocked libraries, including: US, UK, Japan, Canada, and more.
Of course, you don't have to worry about buffering either, as NordVPN NordLynx protocol is not only very secure, but offers fast speeds, it's the fastest VPN currently, so you can stream 4K content smoothly without effort.

Like Surfshark it is compatible with all devices and also has dedicated apps for Amazon Firetv stick, Android TV, KODI and SmartDNS feature for smart TVs or consoles that do not have dedicated VPN apps.
ExpressVPN and Surfshark are not that different for unblocking Netflix content, both VPNs can access more than 20 libraries, including as I mentioned before: US, UK, Canada, Japan, India, etc.
But that's not all, also Disney+, BBC iPlayer, Hulu, even DAZN, no hiccups, no buffering, nice smooth streaming experience, that's of course thanks to its high speeds.
Even in 2023, ExpressVPN is still one of the best VPNs for Netflix, but certainly not the cheapest.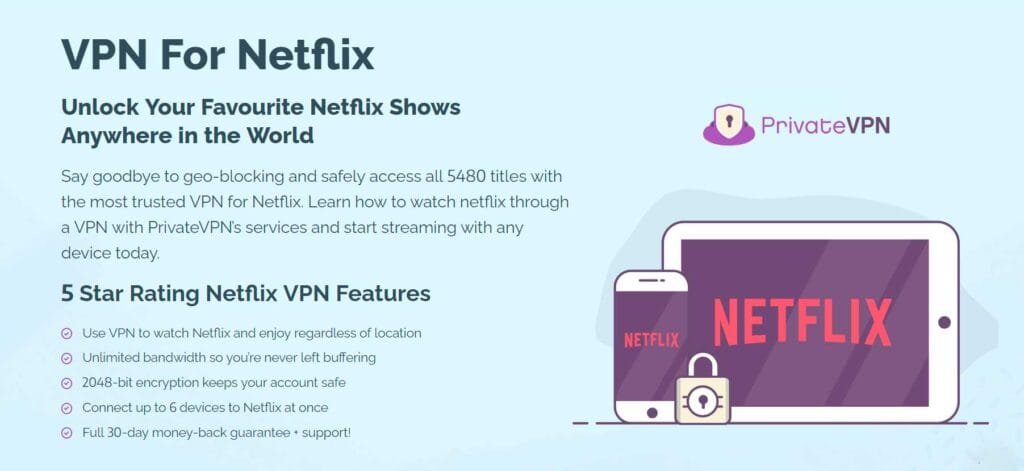 If you are looking for a cheap VPN for Netflix, Private VPN is the best option, it is a simpler provider, so if you are not familiar with VPNs, it is also perfect to start with. It is a very fast VPN, but not that fast when compared to NordVPN or Surfshark.
Although it has a smaller list of servers, you own each one of them, that increases both the security and the performance of this VPN, Private VPN is also more suitable for family and groups of friends, with 10 simultaneous connections allowed instead of 6 on NordVPN.
It should also fit any device you own, because it has apps for all major platforms, as well as Smart TVs, Fire Stick devices, and Kodi.
The price also makes it a good choice for beginners, it's a good deal especially considering there's a 30-day money-back guarantee.
Another inexpensive but equally effective option, Atlas VPN works with Netflix, and unblocks most streaming platforms: Disney Plus, HBO Max, BBC iPlayer, Hulu, and more.
Its speed is enough to view content in 4K, it is a VPN with good performance, perhaps due to the fact that it is part of Nord Security, so it is not a coincidence that it performs so well.
With Atlas VPN you don't need to manually search for a suitable server for Netflix, because it has streaming-optimized servers clearly identifiable in the app.
Tips for unblocking Netflix with a VPN
Netflix has imposed a system that is getting better and better at detecting the use of VPNs, including paid ones. Even though with few details, they have ensured that an external company deals exclusively with it.
If you're using a good VPN, but can't get your Netflix libraries unblocked, first things first, clear your cache and cookies. Often it is enough to fix the problem.
However, if that doesn't work, try changing servers, sometimes Netflix bans certain servers, or sends them to a blacklist. Top tier services know this, and they renew IPs all the time, so after a couple of reconnections you'll find one that works.
Is it legal to use a VPN to unblock Netflix?
The use of VPNs is legal in democratic countries with freedom of expression and information, and using a VPN on Netflix is ​​not a crime. The thing is that there are exclusive licenses for streaming content, in countries where Netflix does not own rights.
And to respect content license agreements and broadcast rights, it imposes geographic restrictions. For this reason, they have implemented a proxy detection system, which does not allow you to reproduce the content you are trying to see.
Netflix has not said that using a VPN is illegal, but it has said that content providers pressure them to take action against VPNs. In fact, HERE they say that you can use a VPN, but to see the titles for which they have the global rights.
There is no known case of blocking or restriction of access to an account for using Netflix with VPN, nor will there surely be one, but what is true is that its detection system is very effective and it is increasingly difficult to bypass the geo -blocking.
In conclusion, What is the Best VPN for Netflix?
If we talk about the best, BEST, we have to talk about a paid one. The best VPN for Netflix is ​​Surfshark which unblocks the most Netflix libraries, followed by NordVPN and ExpressVPN.
And I am not saying that they are the best because of their popularity, but because they have a robust infrastructure of servers and IP addresses, with which you can access the different Netflix libraries without any problem.
And if there is, you could work it out with a real person using 24/7 live chat support. They are also the fastest VPNs, ensuring smooth, buffer-free Ultra HD playback.
Although they don't have a free trial, they do have a 30-day, no-questions-asked money-back guarantee if you're not satisfied. That's why they're the best, and that's why they're so popular.