Which is the best free VPN?
Let's get to the point! Tuxler VPN is the Best Free VPN, because it is the only completely free and unlimited service with 92 countries to choose from, and 300,000 residential IP addresses that are renewed every month, so it is undetected by AntiVPN systems.
It is a VPN that works against any block or geo-restriction, including Netflix and other streaming platforms, thanks to the impressive number of IP addresses that it has and that no other has.
But it obviously has all the disadvantages of a Free VPN, including: It slows down the connection, it doesn't have a clear privacy policy, and it's only available for Windows and Mac.
▶ The most secure Free VPNs
These are the "Freemium VPNs", they are the top-notch VPNs with a free plan, considered the Best Free VPNs, because they have decent speeds, they respect privacy, they are secure and they work on any device: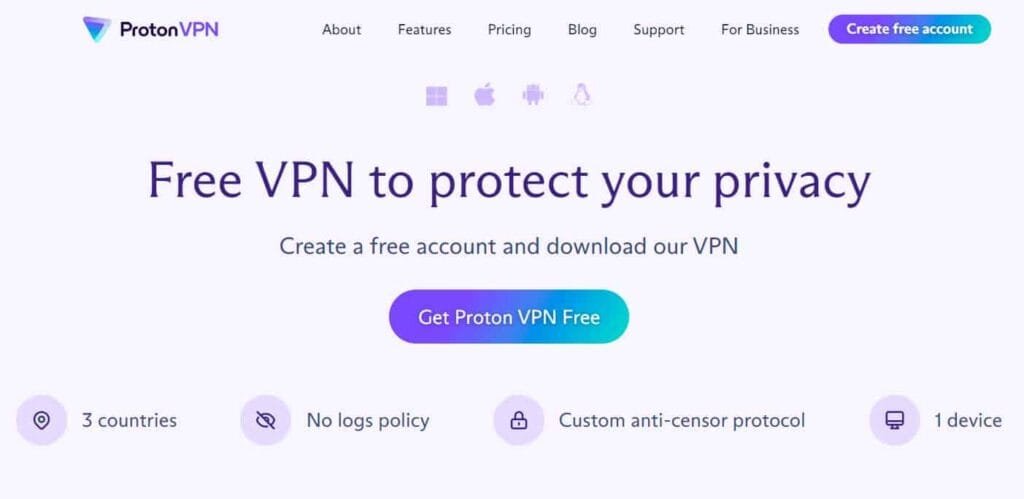 It is the only Premium VPN with an unlimited Free Plan, decent speeds, and apps for all devices. It has "Stealth", an obfuscation protocol ideal for countries with extreme censorship and offers connections to more than 100 locations in 3 countries (USA, Japan and the Netherlands).
It is based in Switzerland, a country that respects privacy and has no data retention laws. It has a hermetic No Registration policy. It is undoubtedly the only unlimited, safe and fast Free VPN you will find.
It is equipped with a Kill Switch function, and uses different encryption protocols, including: OpenVPN (industry standard), ChaCha20, a future-proof protocol, and the new WireGuard, which is an open source communication protocol with state-of-the-art encryption, designed to offer very robust security and high speeds.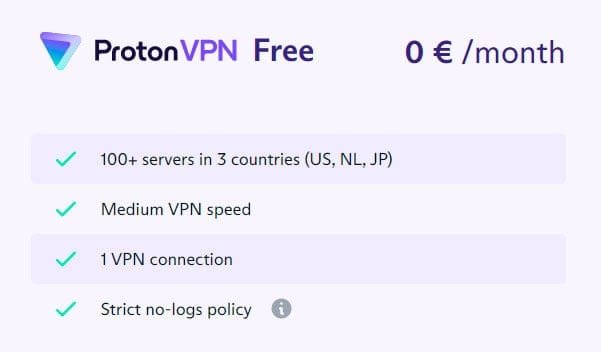 ProtonVPN works for Netflix, but it's one of the features available on paid plans. The free plan isn't able to bypass the powerful VPN detection system Netflix hardened last year, so that's a common drawback most Free VPNs have.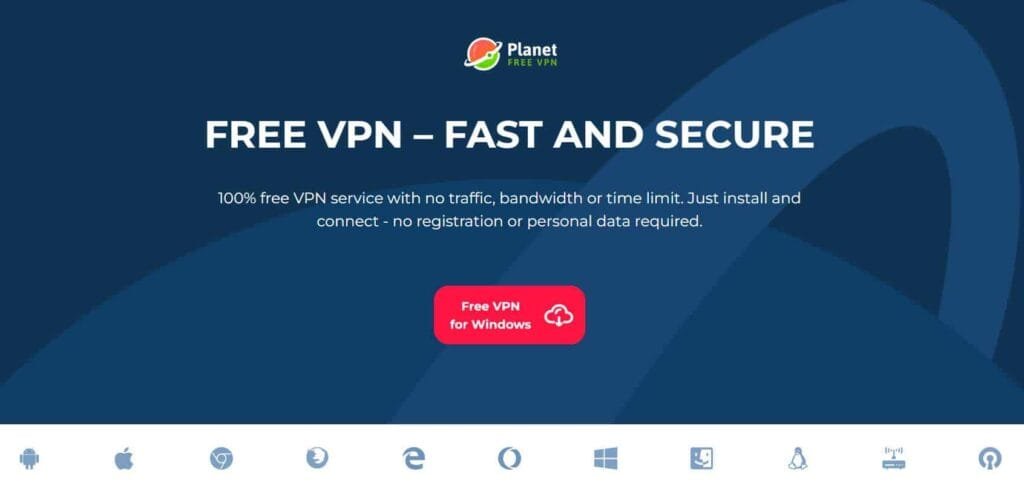 This is the old RusVPN, which was a pay-only VPN, but apparently they didn't do very well and they changed their strategy. It now offers a free and unlimited service, but with access only to 5 locations: France, Germany, Japan, the US and the UK.
And although its new name describes it as a Free VPN, it is actually a Freemium VPN, because to have access to more locations and additional features, you have to purchase the Premium plan.
Without a doubt, ProtonVPN is better, because it offers more features and more servers, plus it is focused on security. What I like about Planet Free VPN, however, is that it is also unlimited, meaning it does not have a data usage limit like most Freemium VPNs.
Although it does not specify it anywhere on its website, Ivacy VPN can be used for free and unlimited, you just have to download and install it, it is not necessary to create an account or register or pay anything.
You will find a Free and unlimited VPN, with two connection options: "Automatic" and the Netherlands. Choosing the first one will connect you to a random country, and in the list of countries, this free version will only allow you to choose the Netherlands.
It is P2P compatible, so if your interest is torrenting, or you don't mind having a random connection, or you just happen to need to connect to the Netherlands, it's the ideal option for you.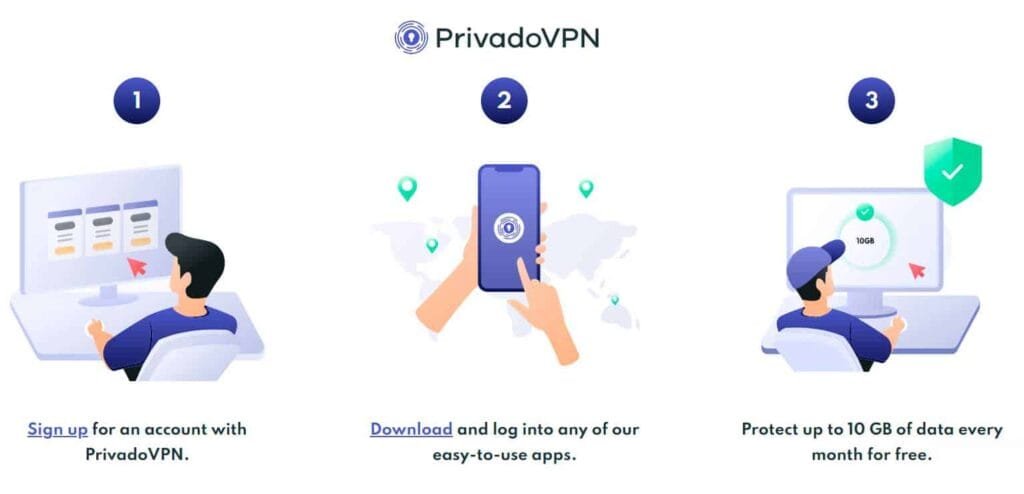 PrivadoVPN is in this top of the Best Free VPNs, because it is a fast and secure VPN. Its Freemium version has 12 servers in 9 countries: Holland, USA, United Kingdom, Germany, Canada, Switzerland, France, Argentina and Mexico.
The free plan has all the security features of a robust VPN, but also has a 10GB monthly limit.
Getting it is very easy, from the main page, in: "Sign up for a free account" you enter your email, receive a confirmation email and that's it, or in "prices" select the "Free" plan.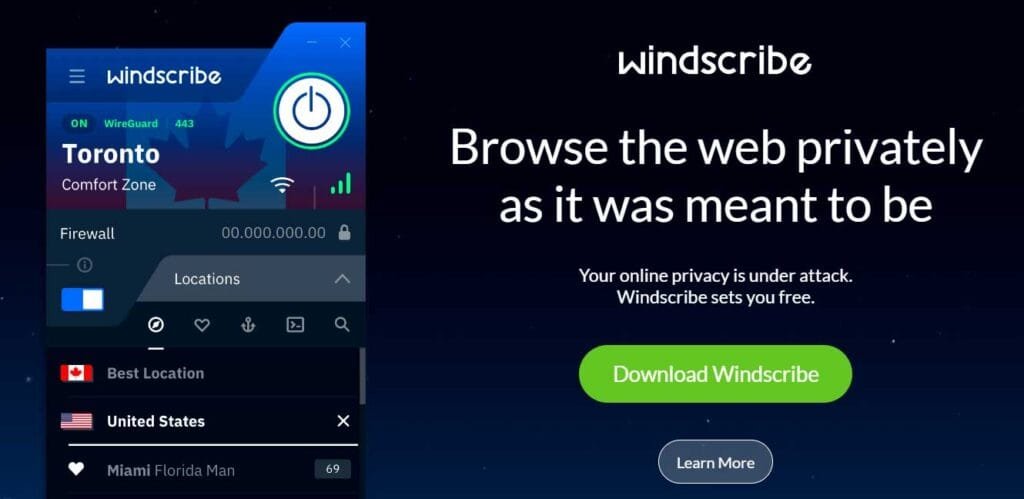 It is the only Free VPN that reliably unblocks US and Turkish Netflix. With cross-platform compatibility, it offers a total of 26 free locations from 11 countries:
United States (central, east, and west), Canada (east, and west), France, Germany, the Netherlands, Norway, Romania, Switzerland, the United Kingdom, Turkey, and Hong Kong.
It is based in Canada, a member of the 5 Eyes intelligence alliance, despite this, it has a strict No-Log policy. It uses sophisticated protocols like WireGuard to ensure efficiency and speed, it has a Kill Switch, and it also features the ChaCha20 encryption algorithm.
It uses protections against DNS leaks, IP leaks, IPV6 leaks and Time Zone protection, to reinforce user privacy. It also has an ad, tracker and malware blocker called R.O.B.E.R.T. Something rare in a free service.
It has a user-friendly interface, no device limits, and features the venerable SOCKS5 proxy, with split tunneling for torrenting. But the main disadvantage is the 10 GB monthly limit.
Its free version offers the possibility of 3 connections: 2 to the United States (New York and Los Angeles) and one to the Netherlands (Amsterdam).
It provides a secure network of servers using the WireGuard tunneling protocol, which as I said earlier is the fastest protocol and the least susceptible to malware attacks compared to older protocols.
Although it is not as fast as its paid Premium version, it is still much faster than other free services, maintains top-notch security and privacy standards, has ChaCha20 encryption, a Kill Switch feature, and an unwavering privacy policy.
But the free version of AtlasVPN has two major drawbacks: Its inability to unblock Netflix, (which is only possible with the paid version) and that it is capped at 5GB of usage per month.
Although before it was unlimited, in October 2021 when it was bought by NordVPN, the 10GB limitation appeared, which was later reduced to 5GB per month, yes, it maintains excellent performance and robust security, which will surely continue to improve with the support from Nord.
🆓 INSTRUCTIONS for using the free version: Although you have the option to try all its premium features for 1 month, thanks to its 30-day money-back guarantee, if you go to the menu, under: "VPN Apps" choose the type of device, and you can download the free version.
It is another safe option, its free version includes 9 locations: Germany, Canada, France, the Netherlands, Singapore, Spain, the United Kingdom and the United States (East and West).
It has a limit of 10 GB per month, I tested them individually on different devices and they work the same on all platforms.
To obtain it, where it says "Free", click on "Register Now" then you will have to enter an email and click on: "Register" and that's it!
This free VPN gives you access to 5 locations: The Netherlands (Amsterdam), the United Kingdom (London), the United States (Washington), Singapore, and Germany (Dusseldorf), to which you can connect up to the limit of 10 GB per month that offers.
To use it, when you are in the "prices" section, choose the first option that is the free plan.
It is another Freemium VPN whose free plan offers 16 servers from 6 countries: France, Germany, United Kingdom, United States, Japan and Australia.
It has a usage limitation of 700 MB per day, so it is not an option for frequent use, but it can be useful for specific things.
It offers only one connection (United States), and its application for computers has a limit of 500 MB of daily browsing, it has a Speed ​​Test that seems useful to know the speed of your internet.
At the time of our tests, on mobile devices it is unlimited, except on tablets where you depend on ads, it offers you 10 minutes of browsing for each 5 or 10 second video ad you see.
By creating a free account you have access to 23 locations, with limited use of 500 MB per month, this is just for a little taste.
So far my recommendations for the best Free VPNs. Now I am going to show you the VPNs with a free trial that are not conditioned by the fact that you have to enter a payment method.
▶ VPNs with Free Trials no credit card required
The best Free VPN is the one that gives you all the benefits of a top-tier VPN without costing you money, and that's exactly what you get with VPNs Free Trial without a credit card, because they don't require you to enter a payment method before.
In general, the trial period is usually: 1, 3, 7 or 30 days. The VPNs with the shortest free trial are usually the best, and when they are recognized as being the best, they stop offering the free trial and switch to a money-back guarantee.
And although I won't mention them (because I'm focusing on free trials without a credit card), there are also some VPNs that offer a free trial, but ask you to enter a payment method beforehand, although they will only charge you if once the trial is over you decide to stay, as in the case of Avast SecureLine VPN and AVG Secure VPN. (The free trial is for 2 months FROM A COMPUTER)
Among the best VPNs with free trials, this is the best option, I even recommend it if you consider it for regular use. It is a vpn free trial 7 days without a credit card. It has 4800 servers in more than 80 countries.
It has servers optimized for fast and safe downloads for Torrenting and also a wide list of dedicated servers for Streaming, it is multiplatform, compatible with all devices.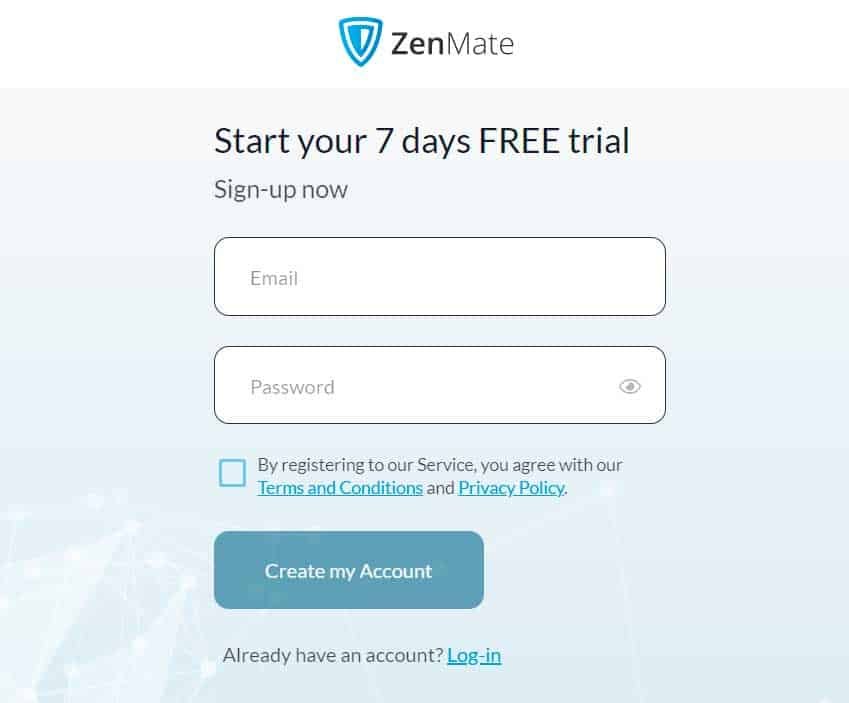 ATTENTION: If the option "Try it free for 7 days" is not on the main page, go to the menu, in: "Downloads" and choose a platform, then scroll down a bit, and under "Connect in 3 Easy Steps" you will find: "Start 7 days trial"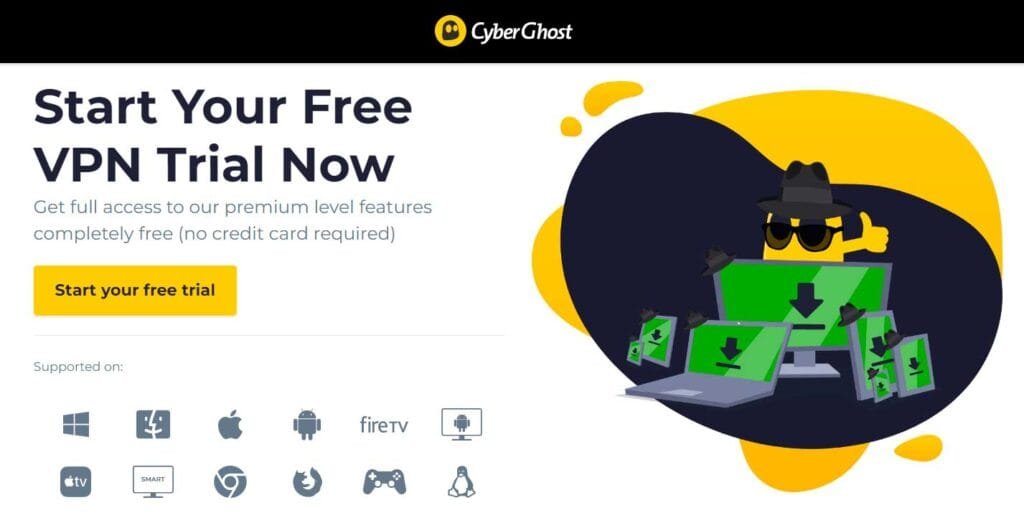 Yes, nothing more and nothing less than the super famous Cyberghost VPN for free trial without credit card, but don't be so happy because the free trial it offers is only for 24 hours, yes with all its features and functions.
You have to activate it from a computer, clicking on "Start your free trial" and the software will be downloaded to you, all you have to do is install it and the countdown will begin.
Freedome VPN is part of the security solutions offered by F‑Secure, which in addition to antivirus protection also includes a password manager, but why is it on this list? For your 30-day free trial!
If you go to their website and choose the VPN, you will see that it will offer you a free trial for 5 days, but the trick is to choose the complete package, even if you are only going to use the VPN, because the period is 30 days.
As for the VPN, I see it as quite simple, I tried it with Netflix and it was not able to unblock geo-restricted content, it is useful if you just want to hide your IP and browse safely, it has 28 virtual locations from 22 countries.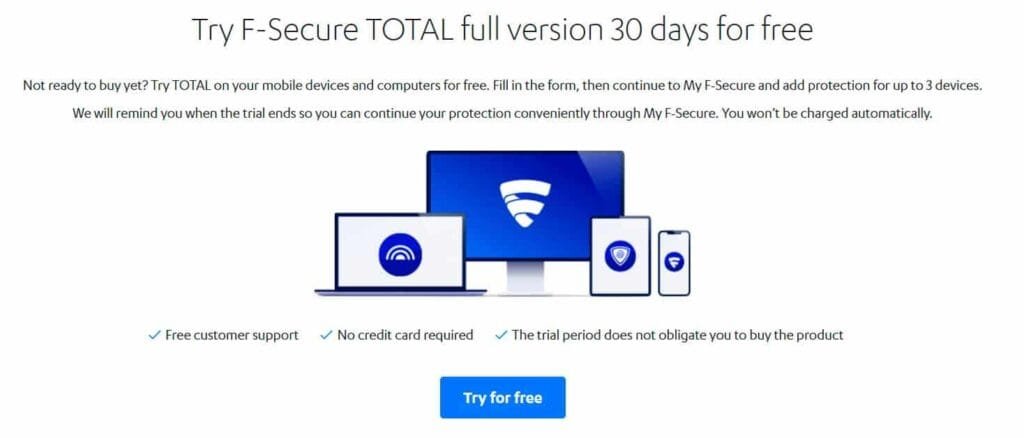 You can try this VPN for free trial for 3 days, without the need for a credit card.
The free trial of this VPN is for 3 days, but it is limited, it offers only 1 GB of browsing.
▶ Free trial VPN with Money Back Guarantee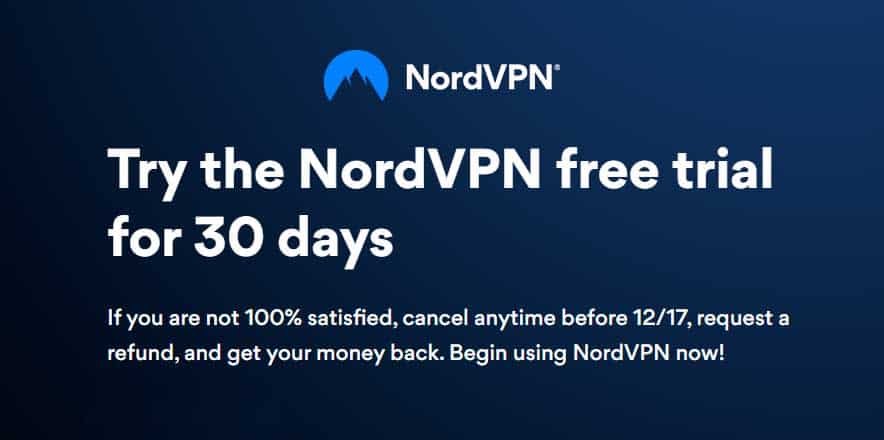 The money-back guarantee is a policy that the best VPNs on the market have, and that allows you to try the service for 30 days without any commitment, so you can cancel it at any time, for whatever reason, and request the refund without explanation.
But why do they lead the market?
Because they have servers all over the world.
They are the fastest (essential for Torrenting, Streaming and Gaming).
Stealthy, with obfuscated servers that make them undetectable, to be able to work in China and in countries with VPN detection systems and strict censorship.
Support and live chat 24/7 to solve any problem or if you have any questions.
They have applications for all platforms, devices or operating systems.
And even with all that, with the 30-day guarantee you can request a refund.
You already know VPNs with free versions, but with limitations, and VPNs with free trials of 1, 7, 3 and 30 days. Now you can choose the unlimited Free VPNs that we recommend for each platform.
⚠️ Are completely Free and unlimited VPNs safe?
The answer to the question, Are free VPNs safe? is No, they are not, you have to be very careful with a Completely free and unlimited VPN, just think, how do Free VPNs make money? I tell you, with annoying ads, incorporating malware and selling the data of its users.
They generally collect a lot of information. What kind of information do they collect? Your IP address, the type of device, the type of browser you use, the web pages you visit, what you do and the time you spend on them, as well as the date and time.
And in the case of completely free VPNs for mobile devices, they ask for device permissions to access functions that have nothing to do with how the VPN works, I have seen cases that ask for access to the photo gallery and contacts.
The function of a VPN is to offer you security, privacy and protect your data, but completely free and unlimited VPNs do the opposite. And to speak with examples, I am going to give you two, (although I could give you dozens of examples).
Look HERE how Urban VPN admits that it sells the data of its users, and HERE how Hola VPN puts it in a more beautiful way, that it "shares the resources contributed by its users for the commercial benefit of Bright Data" (its company in charge of the sale of the data it obtains). And I already explained how they have access to user resources.
Disadvantages of a completely Free and unlimited VPN
They are not secure nor do they respect privacy.
They have ads, and sometimes they abuse advertising that they force you to watch for free use of the service.
 Being few and shared, the servers are slow. It is normal that you notice that your connection becomes quite slow depending on the IP and the server you connect to, or that it disconnects at some point.
None can unblock Geo-blocked content from streaming services, such as Netflix for example.
They have no tech support or customer service.
Most are based on community networks, when using it, you use someone else's IP and someone else could use yours. It is dangerous, if someone uses your IP for malicious activities.
As a way to earn income, many sell user data, recording your behavior, the pages you visit, and the performance of the app.
In my Best Free VPN recommendation, I mentioned Tuxler VPN, and it's the only Free unlimited VPN that might be worth the risk, because it works!, but it's an alternative, if you can't or don't want to pay for a VPN from first level.
My recommendation is always that, if you are going to use a completely free and unlimited VPN, it is best to inform yourself beforehand, read reviews from other users, look at the scores, read what they say about it on the internet and read their privacy policies.